Bulldog Jumpable Rail Frame
SKU# BRFP
NATO NSN: 8465-99-217-2295 
Pouches can be Mounted Vertically or Horizontally
The Pack Frame has a Load capacity of 400 Lbs
The removable Platform can be used to carry Ammunition Cans, Mortars, Batteries, Water, or any other Bulky Items. 250 Lb Capacity
Constructed from Aircraft Aluminum, which is CARC (Chemical Agent Resistant Coating) Coated
Designed to be worn directly over your plate carrier
Any damage to the frame can be hammered back into place !!!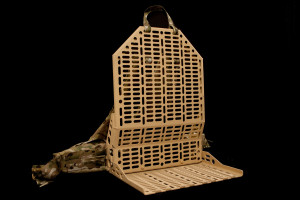 240 AG Kit
SKU# 240AGK
NATO NSN: 8465-99-555-9475 
Bulldog Tactical Equipment's goal was to substantially increase the War-Fighters individual capability by increasing ease of access to linked ammunition on the battlefield. The Bulldog AG Kit has utilized our Patented Technology to create a flawless system. In the process we were able to provided a 15 Lb weight reduction from standard issue equipment.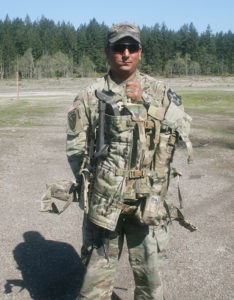 60mm Mortar Kit
SKU# 60MMBMOR-KIT3
NATO NSN 8465-99-187-0392 
The 60mm Mortar Kit has leveraged new technology to improve an existing system by providing Mortar Teams with
Improved efficiency
Reduced weight
Increased lethality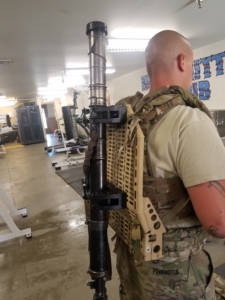 81mm Mortar Kit
SKU# 81mmBMOR-KIT4
NATO NSN: 8465-99-959-3408
The 60mm Mortar Kit has leveraged new technology to improve an existing system by providing Mortar Teams with
Improved efficiency
Reduced weight
Increased lethality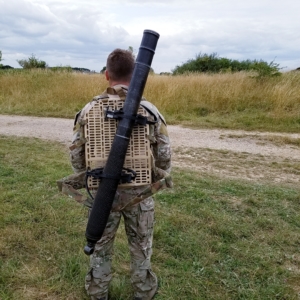 Javelin & CLU Kit
SKU# BJCK
NATO NSN: 8465-99-988-8696 
This is a (2) Two Soldier System
A Soldier carries the Javelin and a Medium Ruck
The other carries the CLU and a 2 Day Ultra light Ruck.  The Ruck weighs 14 ounces!!! 
The entire system with Brackets and Platform and 2 Day ruck weighs right at 5 Lbs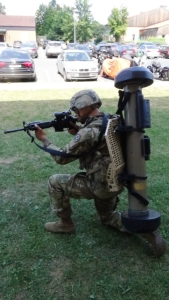 Ultra Light Pole Less Litter
6530 01 533 2512
M240B/M249 Weapon Sling
1005 01 533 4093
M240B/M249 Spare Barrel Bag (COY)
1005 01 587 7595
SKU: SMP1000P
The Bulldog SMP-1000 Pouch
•Constructed of 500D Cordura Nylon
•MOLLE compatible
•Lifetime Warranty
NSN 8465-01-601-1997
SKU: TNP
The Bulldog Trimble Nomad Pouch
•Constructed of 500D Cordura Nylon
•MOLLE compatible
•Constructed with dust proof/waterproof zipper to protect the equipment
•Lifetime Warranty
NSN 8465-01-601-2000
SKU: PRC152P
The Bulldog PRC-152 Pouch
•Constructed of 500D Cordura Nylon
•MOLLE compatible
•Equipped with bungee rentention
•Lifetime Warranty
NSN 8465-01-601-1991
SKU: PSN13P
The Bulldog PSN-13A DAGR Pouch
•Constructed of 500D Cordura Nylon
•MOLLE compatible
•Constructed with a dust proof/water proof zipper, as well as a Velcro closure that will aid in closing the pouch for rapid engagement
•When the pouch is opened, the DAGR is placed in clear izing glass so it can be easily read and manipulated while stored safely in the pouch
•Lifetime Warranty
NSN 8465-01-601-1994
SKU: P-BA5590P
The Bulldog Padded BA-5590 Pouch
•Constructed of 500D Cordura Nylon
•MOLLE compatible
•Equipped with 360 degrees of padded protection
•Equipped with a webbing pull strip for easy removal of the equipment
•Lifetime Warranty
NSN 8465-01-601-1974
SKU: LPAP
The Bulldog Low Profile Admin Pouch
•Constructed of 500D Cordura Nylon
•Designed to create easy access to maps, paper, pens, etc.
•Lifetime Warranty
NSN 8465-01-601-1982
SKU: A320P
The Bulldog AMTI A-320 Pouch
•Constructed of 500D Cordura Nylon
•MOLLE compatible
•Equipped with dual bungee retention
•Constructed with 3 sides of mesh to allow breathable areas for the equipment
NSN 8465-01-601-1971
SKU: PRC117G
The Bulldog AN/PRC-117G Pouch
•Constructed of 500D Cordura Nylon
•Designed with PALS webbing on all sides
•Triple bungee retention at the top of the radio
•Additional retention on both sides of the radio
•Lifetime Warranty
NSN 8465-01-601-1989
GARMIN FORETREX 401 POUCH
SKU: GF401P
The Bulldog Garmin Foretrex 401 Pouch is designed to protect your GPS device.
•Constructed with mil-spec components
•Provides a comfortable, safe carry for your GPS system
•Easily removable, and easily usable
•Lifetime Warranty
NSN 8465-01-601-1988
SKU: LADP
The Bulldog C/Leader Admin Pouch
•Constructed with 500 Denier Cordura Nylon
•Equipped with a front flashlight pocket
•Equipped with a front cell phone pocket and elastic loops to hold pens
•Internal multiple pockets with multiple elastic loops and a tie down attachment point
•Equipped with a map pocket that will hold a range card – this pocket is illuminated with Illum Tape which is located behind the Izing Glass
•Designed to open in a 'desktop' style so all goods stay in place and are easily accessible
•MOLLE compatible
•Designed to work in conjunction with the Low Profile Chest Rig
•Made in the USA
•Lifetime Warranty
NSN 8465-01-601-1980