Description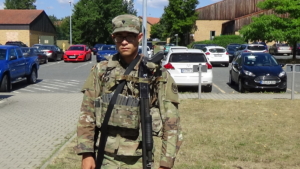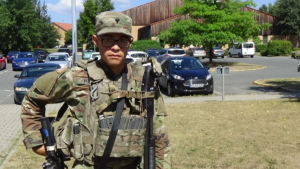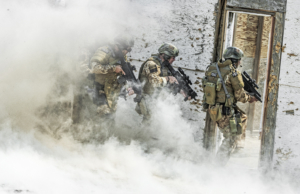 The Single Point Magnetic Shotgun Sling was designed for SOCOM to carry the Breaching Shotgun, or for any soldier who needs carry two weapons.
The two magnetic pouches are placed either on the top of your Chest Rig or Plate Carrier on the nonstandard firing shoulder, and the other pouch is placed on a Battle belt, Duty Belt, or Drop Leg Platform. These will hold the shotgun in place even under the nastiest of conditions.
Magnetic Shotgun Breaching Sling: (2) Magnetic Pouches hold the weapon with 50 Pulling LBS of force, a 14″ Bungee with stainless steel carabiner to connect to the weapon, and a Fast tack and 1″ Webbing Retention Strap to assist holding the weapon to the magnetic pouches while traversing obstacles. Also a (5) Rd elastic loop molle ammo rack is included to secure the ammunition,  This will hold (5) shot gun rounds.
Elastic Bungee attaches to your drag handle with a Stainless Steel Carabineer and another Carabineer is used to attach to your weapon with Webbing Loops provided
You can use a Loop Sling Attachment point mounted to attach the Stainless Steel Carabineer
Bungee allows for 10 Inches of Extension
Bungee is Crimped in Place
Magnets are Unaffected by Water, Sand, Mud or any other nasty Debris
Magnets will not affect hand held GPS or Comms
EACH MAGNETIC POUCH CAN SUPPORT A 45 LB STEEL PLATE!!!!
THIS SLING HAS A 100% SILENT RELEASE WHEN STACKED ON THE DOOR, WHAT DO YOU SAY WE SURPRISE THEM!!!!!
Units out of Fort Benning were issued these in 09 and they have never been replaced! A friend of mine says "The Sling is Perfect Don't Change a Thing"
Currently there are over a 1000 of these Magnetic Shot gun slings in the field with units from Fort. Benning, Fort. Bragg, Navy, Swat Teams, Power Companies, USCG,  Overseas Militaries, and many units that can't be named.
We are proud to say we were the First to develop this theory for the US Military and now provide it to NATO Countries around the world.
THESE MAGNETS ARE VERY, VERY STRONG!!!!!  DO NOT TAKE THEM OUT OF THE POUCH AND JOKE WITH YOUR BUDDIES.  YOU LITERALLY CAN BREAK A FINGER!!! AT MINIMUM YOU WILL HAVE A HUGE BLOOD BLISTER!!!
IF YOU DECIDE TO PLAY DANGEROUS GAMES, YOU WILL WIN PAINFUL PRIZES!!!
*****************YOU HAVE OFFICIALLY BEEN WARNED***********************
95% of all Bulldog Tactical Products are custom made per order. A Bulldog Representative will follow up regarding the current availability of your order. Once a product has been manufactured we will contact you regarding your shipping requests.