Description
Bulldog Jumpable RAIL Frame and Accessories!!!
Currently members of SOCOM have Jumped the Bulldog Rail Frame and its accessories in Multiple Configurations, from Static Line to Halo. The Jumpable Frame has been rigged as a Stand-Alone Ruck as well as placed in the Parachutist Drop Bag.
 *****MULTIPLE PATENTS PENDING*****
Call for unit Pricing: 954-448-5221
The Bulldog Carl Gustav 84mm – and 84mm Single Round Pouches/ 2 Day Assault Pack:
Designed to efficiently carry the Carl Gustav and 84mm Ammo. The minimalist approach has been applied as less is more especially when covering terrain at elevation.
Single Round Pouches are 360 Degrees Protected with a thin plastic and 1/2″ foam internal protection.
The Gunner would carry the 84mm and a Ulta Light Weight 2 Day Ruck, the Ag would carry the Bulldog Large Ruck with a 6 Round Capacity, (6) external pockets (3) pockets with zippers, (3) with Pockets with Fast Tack Closures.  One of the zippered pockets is large enough to carry a Clay-more.  Inside the Ruck are (4) Velcro Adjustable Divider Walls.  Entirely protected by 1/2 Closed Cell Foam, the rounds are protected from to the primers as well as the front of the rounds.  The Rounds are between $5,000.00 to $6,000.00 Each.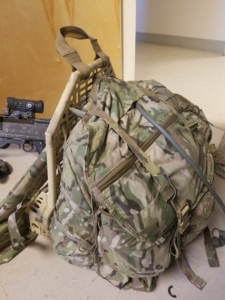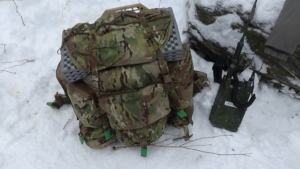 Bulldog Large Ruck 5,800 Cubic Inches
Recommended Light Infantry Load Out
SKU: BCGK
(2) Bulldog Rail Frame: (Aircraft Aluminum and 100% Weld Construction): Frame that is Molle Compatible with a 400 lb load capacity.
SKU: BRFWP Qty (2) Weight 2.75 Lbs.
(2) Bulldog Rail Platforms: Designed to support the Large Rucks and can be used to carry any heavy equipment.  Load Capacity 250 Lbs. Qty (2)  Weight 1.4 Lbs.
(2) Pair Shoulder Straps (With metal quick release clips):
Qty (2) SKU: BRFSS  Weight 1 Lbs.
(2) Tapered Waist Belts: Custom designed waist belt to assist in distributing the load with The Rail Pack Frame: Qty (2) SKU: BRFWB: Weight 211 Oz
(2) Jacket Pouch: Stuff Sack for the Level 7 Cold Weather Puffy Jacket:
Qty (2) SKU: BJSP: Weight 8.4 Oz
(1) 2 Day Assault Back Pack Ultra-Light: A custom designed pack that can be mounted over the 10 Rd Tootsie Carrier Pouch (Approx. 1250 Cubic Inches):
Qty (1) SKU: B2DAP: Weight 1.5 Lbs.
(1) Bulldog Large Ruck / 3 Rd 84mm Carl Gustav Round Carrier: 5,800 Cubic Inches (For the Assistant Gunner and Ammo Bearer) Design is based upon an Large Alice Ruck but with major changes. Removable Lid for Escape and Evasion, 3 compartments that are foam padded and plastic reinforced to protect the ammunition from an Accidental Discharge: will hold 1 Round each (3 Rds), Extreme Light Weight constructed with 500 Denier Cordura, Enlarged pockets on Face, Integrated Claymore Pocket, Internal Bungee for organization, Modern Replaceable Hardware.
Qty (1) SKU: BLRPADJAC  Weight 4.2 Lbs.
(2) Accessory Pouch: This is an Ultra-Light Weight zippered pouch designed to carry all the extra accessories need while deploying the mortar system as well as a 100-ounce bladder SKU# AP: 4 Oz 
(2) Hydration Pouch: Ultra-Light Weight 4 Oz pouch designed to carry a 100 Oz Bladder
HP: 4 Oz 
(2) Carl GUSTAV Retention Brackets:  Adjustable Locking ABS Composite Bracket with Locking Strap will hold any Mortar Tube, Bipod, Carl Gustaf, Javelin – CLU onto a frame or vehicle. Qty (3) SKU: B275 RB Weight 8 oz. Qty (2)
(6) Single Round 84mm Carl Gustav Mortar Pouches:
Qty (6) SKU:84SRCGP  Weight 1.4 Lbs.
(2) Spare Parts Kit: Qty (2) SKU: SPK 
(6) Quasms
(6) 1-inch Male Fast Tacks
(6) Female Split Bars
(12) 1-inch Triglides
(3) Feet 1/4″ Black Bungee Cord
(3) feet 1-inch webbing
CALL FOR PRICING AS IT VARIES DEPENDING ON THE AMOUNT OF AMMO AND ACCESSORIES YOU NEED TO ACCOMPLISH YOUR MISSION.
954-448-5221